The Lindbergh Kidnapping - Was It A Hoax?
Gov. Harold Giles Hoffman 1896 - 1954

1936 Liberty Magazine Series by Gov Hoffman

Complete Liberty Series Available on CD ROM

Lindberghs Flee the United States Dec 1935

Lindbergh Kidnapping Hoax Forum

Ronelle Delmont's Lindbergh Kidnapping Hoax You Tube Channel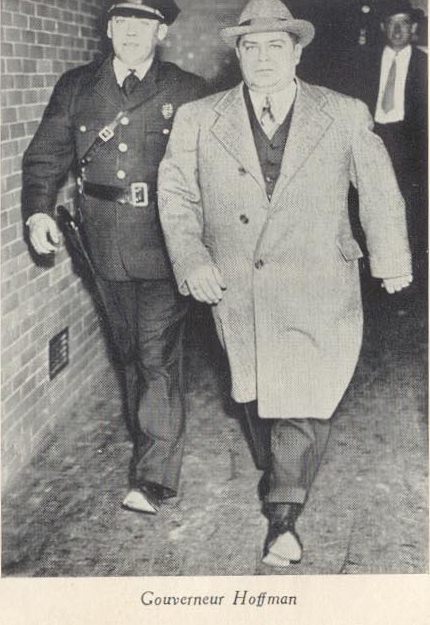 Harold Hoffman, the Governor of New Jersey, had many doubts that Hauptmann was receiving a fair trial.
Later, world famous detective, Ellis Parker, told the Gov that Hauptmann was innocent.
Gov Hoffman granted Hauptmann a reprieve after listening to what the condemned man had to say during a secret visit with him in prison.
"My heart, my conscience and my sense of duty impel me to grant this reprieve."
His political advisors were against his getting involved with "a killer."
With Hoffman attempting to search for answers about what really happened on March 1, 1932, an editorial appeared on the front page of the Trenton Times calling for his impeachment. It stated that Hoffman violated the New Jersey State Constitution.
The Governor responded to all criticism. He said that if impeachment was the punishment he was to face for following what he believed in, then so be it.
He gave the following statement to the public:
"I have never expressed an opinion upon the guilt or innocence of Hauptmann. I do, however, share with hundreds of thousands of our people the doubt as to the value of the evidence that placed him in the Lindbergh nursery on the night of the crime; I do wonder what part passion and prejudice played in the conviction of a man who was previously tried and convicted in the columns of many of our newspapers.
I do, on the basis of evidence that is in my hands, question the truthfulness and mental competency of some of the chief witnesses for the State; I do doubt that this crime could have been committed by any one man, and I am worried about the eagerness of some of our law-enforcement agencies to bring about the death of this one man so that the books can be closed in the thought that another great crime mystery has been successfully solved.

I make no apology for granting a reprieve in this case. During this period we may calmly consider some of the baffling phases of the crime and the subsequent trial of Hauptmann. I intend to give to the public, in due course, my reasons for entertaining doubts that I have expressed and I intend to direct the State police to continue their search for any other person or persons involved in the crime. Colonel Lindbergh, Colonel Schwarzkopf, and many others have repeatedly expressed the opinion that the crime was perpetrated by more than one person, and there is no justification now for abandoning that belief.
I am moved by no maudlin sentiment in this matter. I am the father of three children. I look upon kidnaping as the most dastardly of crimes, and I shared the horrors that struck the hearts of people throughout the world after the murder of the Lindbergh baby.
I am interested in the preservation of that thing we have rather proudly called "Jersey Justice," and I hope that real and full justice will be done in this case. A stay of comparatively few days cannot defeat that end."
Hoffman was not re-elected when the next election took place. He never ran for another elected office and, sadly, committed suicide over an embezzlement scandal in which he had been involved.
Gov Hoffman's OBITUARY 1954
Enlisted on July 25, 1917, as a Private in Company H, third regiment New Jersey infantry and served overseas as a Captain; Executive with the South Amboy Trust Co from 1919 to 1942; City Treasurer of South Amboy from 1920-1925; served in the State House Assembly in 1923 and 1924; Mayor of South Amboy in 1925 and 1926; Delegate to the Republican State Conventions in 1934, 35, 36, and 37. Was elected as a Republican to the seventieth and the seventy-first congresses March 4,1927. In 1930 he was appointed Motor Vehicle Commissioner of New Jersey and served until 1935. Elected Governor of New Jersey and served from Jan 15, 1935 to Jan 18, 1938; became Executive Director of the New Jersey Unemployment Compensation Commission in 1938 and served until granted military leave to reenter the U.S. Army on June 15, 1942 as a Major in the Transportation Corps. He was advanced to the rank of Lieutenant Colonel on December 15, 1942, and served until June 24, 1946; resumed his former occupation as Executive Director of the New Jersey Unemployment Compensation Commission; died on June 4, 1954. Heoffman is buried at Christ Church Cemetery in South Amboy,NJ
Why Did the Lindberghs Suddenly Flee the Country?
On Saturday, December 7, 1935 Anne wrote in her diary, Locked Rooms and Open Doors "Charles thinks we may go abroad to England or Sweden for the Winter, or longer. 'Be ready to go by the end of the week at twenty-four hours notice.'"
She adds that she feels like she is being "thrown in a turmoil" and that they will take Jon with them to avoid a "tug of war." Her husband was secretly obtaining visas and passports in order to sneak out of America. The excuse has always been to blame the US Press for "hounding" them but the most likely scenario is that Lindbergh couldn't remain here if Gov Hoffman was reopening the Hauptmann case. He lied under oath about recognizing Hauptmann's voice and there were many other inconsistencies to warrant a closer look at his own behavior.
It was NO coincidence that Lindbergh gave his wife orders to move to Europe on a day's notice the day AFTER Gov Hoffman's reinvestigation was revealed. The following newspaper clipping is from the Charleston Daily News but word had gotten out the previous day and most newspapers picked up the shocking headlines. After all, wasn't "Bruno" guilty as sin? Why would anyone need to take a closer look? Wasn't his trial good enough? But, obviously, Hoffman wasn't satisfied with Hauptmann's trial - especially what he saw as an obvious frameup. He was reopening this case and it was quite unfortunate that this news leaked out, giving not only the Lindberghs a chance to flee but JAFSIE as well. (Read Fulton Oursler's account of Condon's exile in Panama during this same time period in Behold This Dreamer.)
Charles Lindbergh fled, with his family, to escape the scrutiny of Gov Hoffman's questions and NOT the intrusion of the Press. He would return, several years later, to manipulate the Press (as usual) while promoting the most baseless forms of Nazi Fascist propaganda ever in our history.